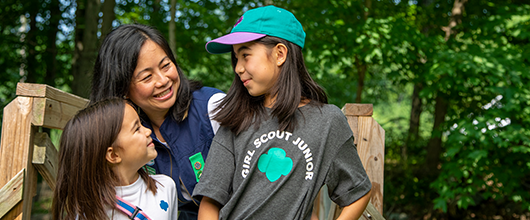 Girl-led. Girl Tested. Girl Approved. Since 1912.
Backed by more than a century of experience, Girl Scouts continues to fuel the female leadership pipeline. Data shows that Girl Scout alumnae enjoy higher incomes, more rewarding careers, and are more active in their communities than their peers. Why? Our all-girl, girl-led environment creates a space where girls can try new things, develop a range of skills, take on leadership roles, and feel comfortable failing, dusting themselves off, and trying again.

The Girl Scout Leadership Experience
Did you know that 76% of current female U.S. Senators, 67% of current female governors, and every female secretary of state in U.S. history were—you guessed it—Girl Scouts! In addition, more than half of women in business are Girl Scout alumnae. These statistics stem from the Girl Scout Leadership Experience—a proven leadership development program that pairs girls ages 5 to 18 with strong, caring female role models and mentors who help girls feel empowered to participate in STEM, entrepreneurship, the outdoors, and so much more.

All-Girl Environments
An all-girl experience is important to girl development. Research shows that single-gender environments provide more opportunities for girls to build confidence, a key component of leadership.

Individually Tailored Experiences
There are tons of ways to have fun and explore the world in Girl Scouts, like joining a troop, traveling the world, exploring the outdoors, and attending awesome events. Any girl in grades K–12 can join the fun!
Share the awesome things Girl Scouts do!

Ready, Set Action!!! Tell us about your amazing adventures, challenges conquered, volunteerism, amazing people you have met or just something cool that was caught on camera!
Inquiring minds want to know! It's easy, just fill out the form below to submit your photo with a description, including who it is about, what it is about, and the story behind the photo(s) and we will share your photo/story.
By filling out this form and sharing your photos, you are giving the Girl Scouts of Montana and Wyoming permission to share your story and information. We will only use first names and last initial when referring to you and/or others in the information.
Girl Scouts inspire, let's go!